I'm always on the hunt for my new favourite mascara. Every time I settle on something I get restless and bail for something better. Weirdly, I've found I often trust cheaper brands as they seem to do the job just as good as the pricier competitors. With Fenty's debut mascara out this month I decided to splash out and give it a try. Would it be worth the price and become my new go-to? Or would it join my mascara graveyard of half-used tubes?
The first thing I noticed is that the tube is huge. That took me by surprise. This is a pretty beefy product compared to your average mascara. It feels and looks like you're going to be digging around in there for a while before it dries up. As usual with Fenty the product feels high-end with a sleek texture and design. However, I'm personally not a massive fan of the look of the tube as I think it's a little plain with the black top that fades into the soft pink bottom. Fenty being Fenty I was hoping for something that would break conventions and surprise me but it looks pretty much like every other cylinder mascara. That said, I can't fault how it feels to hold. It might not look special, but it feels it.
The wand is double sided with a 'fat' and a 'flat' side each with their own job. Fat is here to help with volume by holding the most product, while flat's job is to define and curl. When I heard about the wand it sounded fiddly but actually using it it's incredibly intuitive. Even if I hadn't heard about fat and flat, it's pretty clear what each side does best and I found myself using it that way without actually thinking about what I was doing.
Beyond the fat/flat duo it's also worth mentioning the lovely little point at the end of the wand. My eyes are very deeply set so getting those itty bitty lashes hiding away in the corner can be a bit tough if I don't want to paint my nose, but with the pointy end I had no trouble getting in there and leaving no lash behind.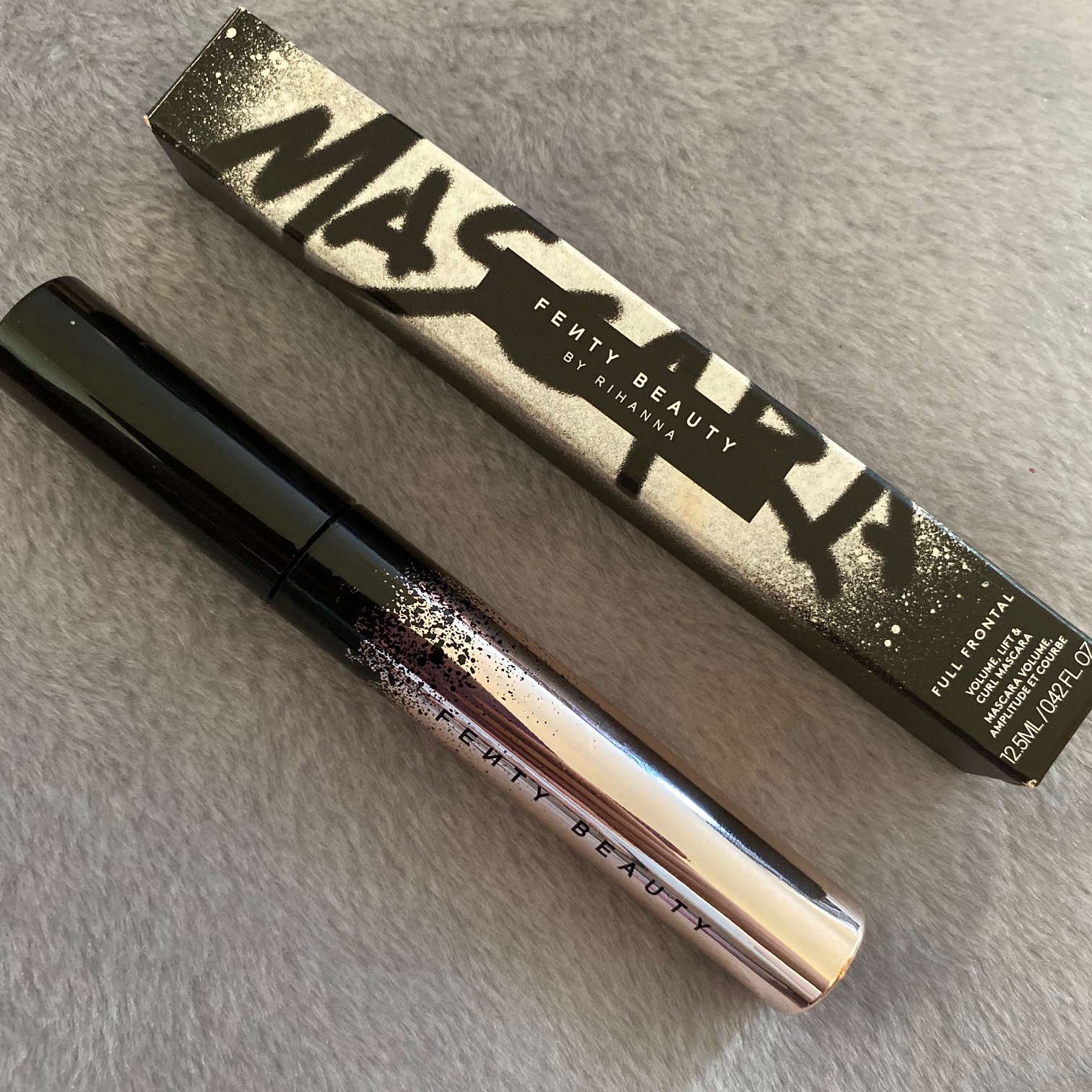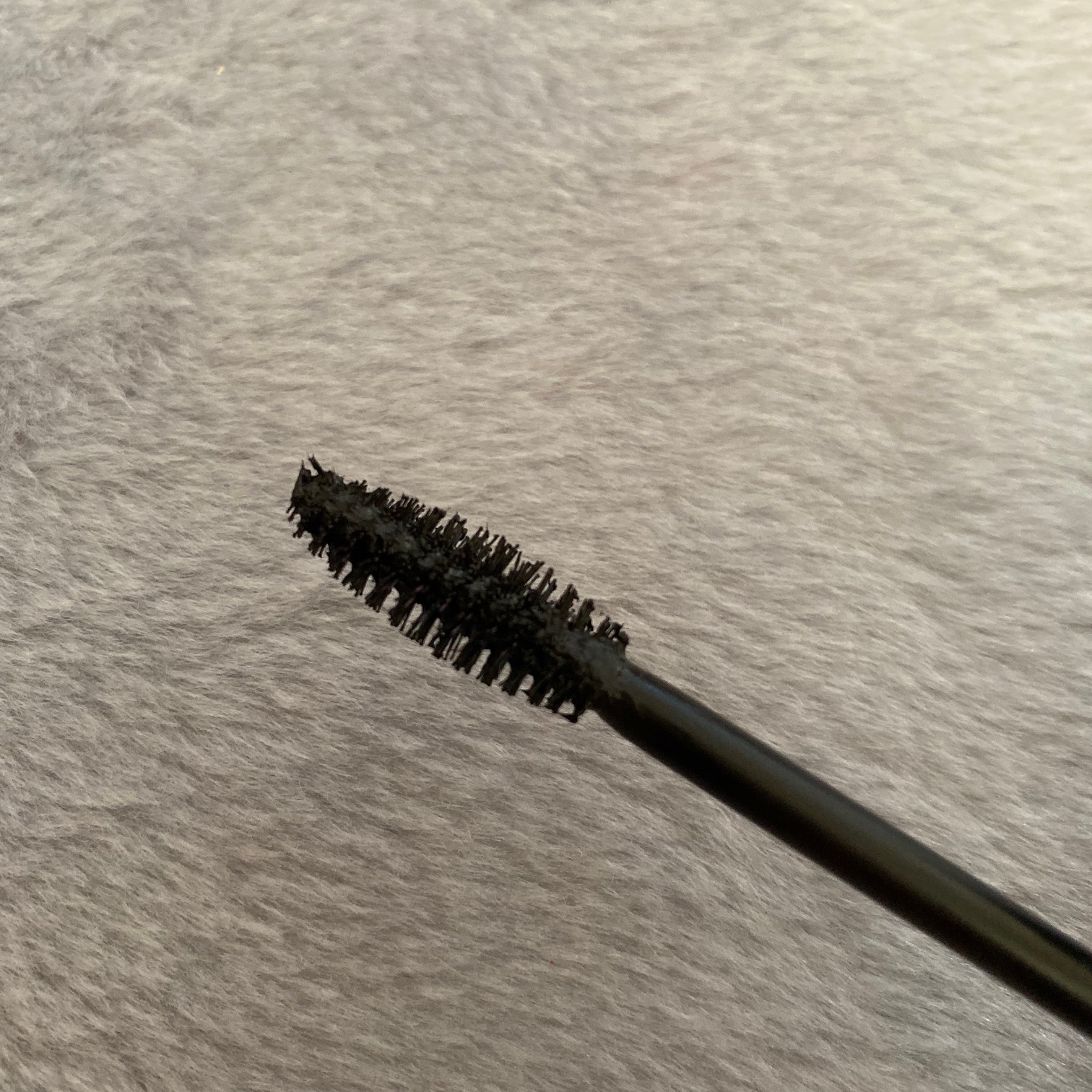 The formula is pleasingly creamy, right with the first application there was no excess whatsoever, no goopiness, no mess, it glided right on without a fuss. Honestly one of the easiest applications of mascara I've ever done.
With my aforementioned deep eyes I almost always go for waterproof to avoid colouring in my own browbones with my lashes, so I was a little bummed out that although it's listed as 'water resistant' Fenty didn't come out with a definitively waterproof variant. But I was delighted that after wearing it for a few hours there was no smudges anywhere on my eyes. My lashes still soft and smooth but with no excess, there was none of the dusty dry texture that comes with some waterproof mascaras. 
I'm now a believer, there is no need for a dedicated waterproof version.
As for how it actually looks, it succeeds in what it promises. My lashes looked fuller and longer with a pleasing pop, but without looking over the top. I'm a fan of mascaras that really bring attention to my eyes, I want to look like I am wearing makeup but I also don't want to go full Clockwork Orange. That seems to be what Fenty have gone for here with their mascara. It was a great compliment to the rest of my workday makeup, and with their lovely formula it let me style my lashes for what I wanted that day.
After a few days of wearing it in a row I remain convinced that this is the best mascara I own. For once, it's actually worth the higher price. It lasts me 12 hours with no need for a touch-up, doesn't flake, and still looks (and feels) both cute and feathery by the end of the day.
It remains to be seen (because this review would take forever to get out if I waited) but I assume the tube is going to last a while because of the size, which could make up for the price if it's putting you off like it did me. But the quality is easily as good as I hoped. Basically, it's excellent and completely lives up to the high standards set by Fenty.
For the moment it's only available in black, but with the diverse range of eye pencils, and the matching names with this mascara and the black pencil both called 'Cuz I'm black' it suggests we'll be getting more colours in future. After being impressed with this first one I don't think I'll be able to resist grabbing more because this really is an brilliant product.
Liked:
Looooong~ tube
Useful wand
Perfect quality
Excellent texture (not too dry or too goopy)
Disliked:
A little expensive in the UK
Tube design is kinda underwhelming